Welcome to Wells Little Theatre
Everyone at Wells are passionate about performing arts, from plays to musical theatre. For nearly 120 years we have been entertaining audiences with our award-winning plays, musicals and pantomimes.
We hope you enjoy reading about our upcoming productions and also looking back at our previous ones. Don't forget to follow us on Facebook, Instagram and Twitter.
Wells Little Theatre is owned and administered by Wells Operatic Society Limited, a registered charity, licensed by Mendip District Council.
The Society
The Society was formed in 1901 with its first performance in 1902 and was then referred to as Wells Operatic Society. In those days, the Society performed only one show a year, mainly Operas. Not having a theatre of its own, the Town Hall was used for its productions. Shows continued each Easter until 1914, after which WW1 put an end to them. At the same time, the Society became affiliated to NODA (National Operatic and Drama Association). Shows carried on until 1938, when once again war in Europe meant the Society ceased productions. The Society was restarted in 1950 and productions were moved to the Regal Cinema, where it continued to present an annual Opera or Operetta. In 1978 the Society became a Limited Company and a registered charity. Now, The Society typically produces four amateur productions a year, along with other theatrical events by touring companies.
The Building
In 1969 The Society was offered a lease option on the current building from Mendip District Council. Over time, The Society was able to buy the building from Mendip and owned it fully, by 1979. It became our home and is known to all as 'The Little Theatre'. Previous to that, the building was best known as the boy's building of Wells Blue Grammar School. When the Society purchased the building, considerable work was required to change the interior from rows of classrooms to space for the stage, auditorium, dressing rooms and a licensed bar. Later, the rear part of the auditorium was raised so that people in the rear seats had a better view of the stage. Over the years, an orchestra pit was created, the stage right wings were added, and the auditorium was given a total refurbishment.
The theatre is largely dependent on voluntary contributions. Except for a few specialised trades, members of the society carry out almost all maintenance and refurbishment work in their spare time. We are lucky to have such skilled and talented members who are prepared to donate their valuable time. Running our building, even before considering the cost of staging shows, costs in the region of £300 per week. This covers electricity, heating, telephone, and all the essential repairs and maintenance. Work beyond the scope of our members is, wherever possible, given to local traders. The theatre is also hired out for dance training and meetings for various organisations.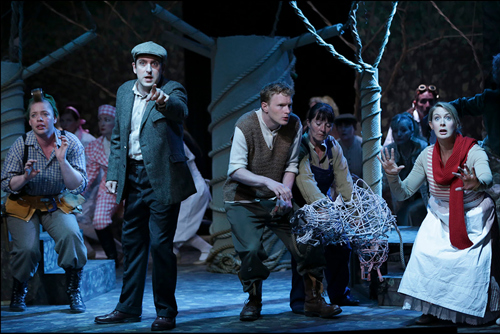 Ken has had experience working for newspapers and knows how pen an article or two! (Who are we kidding, he's probably written thousands!). There is practically no area of the theatre that he has not been involved in - except perhaps costume! He has directed plays, panto, musicals - he has even written some original musicals and plays himself! He also acts, taking on challenging dramatic and comedic roles and is very interested in stage craft.
When not in committee meetings Emma can usually be found in the workshop or lurking backstage.
Pauline is our dedicated holder of the purse-strings when she isn't gracing the stage with her presence and talents. She has the unenviable task of keeping the theatre cash-flow going and paying the bills! When not holding the cheque book, she has been known for many fine performances, from musicals to plays and panto (thigh slapping has indeed occurred on occasion!)
Professional geek and part time anarkist.
With a ridiculous amount of expertise in the realm of theatre, Graham can always be relied upon to 'illuminate' an issue. His specialty is lighting for which he has numerous accolades, but he has also been known to take on the Stage Manager or producer role or help with set construction. As such, his back stage knowledge is at expertise level and he can usually be found up a ladder, or plunging the stage into black out when you least expect it!
Mike has been a member of the little theatre for 10 years or so and has served on the committee for 5 years. His interests are predominantly as back stage crew or management. A retired property maintenance manager who enjoys antiques and collectibles as a hobby.
Joanna has been a member of Wells Little Theatre for over 12 years and mainly works with the properties and archivist departments, and helps elsewhere whenever she can. Currently retired, but previously worked as a qualified Midwife and latterly a Nursery teacher. Joanna now teaches Reiki and Shamanics practices to like minded souls, giving treatments to those who want to experience peace and tranquillity.
Tom has been an active member at Wells Theatre since playing the role of Seymour in our 2018 production of The Little Shop of Horrors. He has taken on a variety of principle roles in all of our musicals since this, and is excited to now be seeing the day to day running of the theatre in a more official capacity!